Volunteer your time, change lives.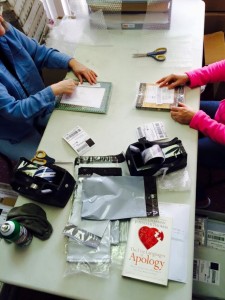 Our team of faithful volunteers is vital to the mission of Orphans Treasure Box and acts as the engine of the organization—sorting, listing, and packaging thousands of used books.
If someone can give 100 books or serve one hour, I'd rather they volunteer.
— Beth Wendling, Founder & Full-Time volunteer
Serving Opportunities
We're grateful for our current team, but are always looking for help. Whether you're one person or a small group, we'd love to have you.  Any needed training will be provided.
Ways to Help:
In our outlet store:  sorting and shelving books.
In our warehouse:   processing donations and inventory.
In our online store: pulling and wrapping books for shipping.
Join us in making lasting difference in the lives of orphans and disadvantaged children.
Please note: We prefer volunteers 12 years old and up. However, we would consider a family group with younger, responsible kids.
Volunteer Form