Turn your clutter into cash—for orphans.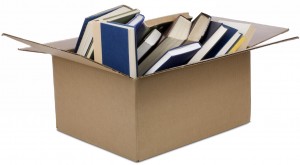 Orphans Treasure Box sells thousands of donated books to support orphans and the families who adopt them.
Just one book can make a tremendous difference in the lives of orphans and for those families who want to adopt them. Donate an unwanted book and you can feed an orphan…or clothe one…or give them the gift of learning…or the wonderful gift of a family.
Moving? Going digital? Cleaning out the basement? Turn your trash into treasure.
We Accept:
Books
Audio CDs and books on CD
DVDs & Blu-Ray Discs
Educational (Homeschool) Games & Teaching Tools
We Do Not Accept:
Books with heavy wear, water damage, missing pages or covers, mold/mildew, or strong odors.
Loose CDs, DVDs, etc. without cases
Encyclopedias
Church cookbooks
Pornography/Graphic Sexually Explicit Materials
Occult/Satanic Materials
Drop-Off Location
Books can be brought to the store at 826 Pioneer St, Champaign, IL during store hours, or dropped off in our shed behind the building any time. For directions, click on the map marker below.

Shipping Books
If you are in another city, you may ship books directly to:
Orphans Treasure Box
826 Pioneer St
Champaign, IL 61822
Tell the post office you are shipping used books, and you should receive the book rate (Media Mail®).
FAQ
What happens to my books when I donate them?
After being sorted by volunteers, your books will be sold in our online store or in our local retail outlet. if for some reason we are unable to put the book on our shelves, then we recycle. The net profits from book sales are then given to organizations that are serving orphans and vulnerable kids. Some local, some international.
Are my donations tax deductible?
Yes, Orphans Treasure Box is a registered 501(c)(3) non-profit organization and your donations are tax-deductible to the fullest extent allowed by law. If you donate books to Orphans Treasure Box, tax law allows you to deduct the fair market value. If you would like to deduct your donated items, please let us know. Be sure to include your name and address so a receipt can be issued to you.