Empowering orphans in AIDS-plagued Swaziland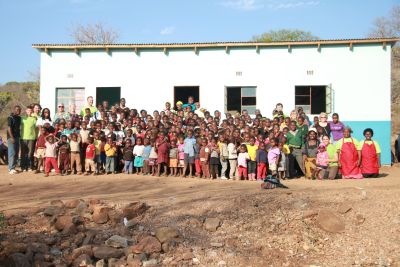 Ludlati Carepoint in Swaziland is a place where 90–100 orphans and at-risk children are fed twice daily by a group of faithful Swazi Bomake (boh-mah-gay, meaning "other mother"). It's also the place where rural Ludlati kids receive clothing, shoes, medicine, education, mentoring, and spiritual discipleship in the midst of an overwhelming HIV/AIDS epidemic. (Swaziland has the world's highest rate of HIV.)
Orphans Treasure Box was privileged to partner with Children's HopeChest by helping to send a local KnownToMe missions team to serve orphans at Ludlati Carepoint. Below is the story of one team member's account of Sandile (Sahn-dee-lay), a teenager who visits Ludlati Carepoint with his five siblings.
Sandile's Story
by Carrie Konstanty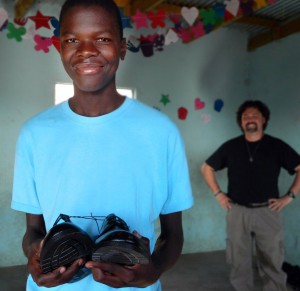 One of the very special things we get to do on our trip to Swaziland is visit the homesteads of the children we meet. This year we were able to visit 15 different homes chosen by the discipleship leaders at Ludlati. They are usually chosen based on need and circumstance. Paying a visit to someone's home in Swaziland is a privilege and an act of hospitality and respect. When we visit we come with a 5 pound bag of beans, a 10 pound bag of maize meal and a bag with cooking oil, sugar and coffee, at least, and a few other things put in like toiletry bags and any other helpful things we have brought.
Visiting Sandile's home was the first visit I went on this year. As we set out from the care point towards his home, I take note of who is with us. Sandile walks off to my right just far enough ahead to lead the way. Off to the left our translator, "Lucky" and my other two team mates. Following behind are 5 younger children. As we walk the dirt road, small conversations break through the crunching of rock under foot. Questions about America are answered for Lucky by myself and the others. Sandile says nothing along the way except to answer quietly when asked the way to his home. I wonder if he is happy we are coming. Possibly anxious about these strangers seeing where he lives. As he walks he clasps and unclasps his hands and looks off to the distance. What must it be like for this young man of 18 to welcome us to his home?
We reach the front gate about 2 miles away – a piece of corrugated tin from a roof long gone loosely tied somehow to the doorpost. A typical log and wire fence surrounds this homestead like many others. As we enter I make note of at least two concrete brick "homes" (these are typically smaller than a one car garage here) and one common circular mud hut. We stop in front of the latter. There is a moment of silence as we wait for an adult to appear. Customarily at this point in a visit, chairs or benches are brought out for the men to sit on and a large mat for the women to sit on the ground. After a moment, it becomes clear that at this homestead there are neither – adults or customary seating arrangements. We stand in a circle instead.
At one time things must have been going relatively well as I look at the now empty homes that were built soundly at some time. We are told they sleep in the mud hut — the ground is warmer in the winter than the concrete floors of the other houses. It holds body heat better too, because it is smaller. It is then I remember the 5 other children who were tagging along with us. These are Sandile's siblings. There are a few awkward pauses as we ask a few questions and already know the answers before they come.
There are no parents here. Sandile is the head of the household and takes care of his brothers and sisters.
"There are no parents here. Sandile is the head of the household and takes care of his brothers and sisters." There it is — an 18 year old responsible for his 14, 12, 10, 8 and 6 year old siblings. We don't pry into why or where the parents are, feeling that doesn't need to be known or brought out. They are either dead or gone and they aren't coming back. Both scenarios are common here. Sandile looks at the ground as he explains he takes them all to a church on the other side of the valley and that he is thankful he at least is still able to go to school because someone has picked up his school fees. The other five spend the day at the care point each day while he attends school — it is a guaranteed meal for them and a safe place to be while he is away …
Continue the story of Sandile at Carrie's blog, No Country Roads at Night