Our annual adoption grant.
While Cole's life was short, he continues to touch so many lives. In memory of Cole, Orphans Treasure Box has created Cole's Gift, an annual $2500 grant to assist a family in the adoption of a child with a disability or life-threatening illness.
We're delighted to have Cole's parents, Eric and Jennifer Shannon, involved in the process of choosing the family who receives this special grant, given each year on April 27th (Cole's birthday).
If you're in the pre-adoptive stage of a child with special needs, please request an application for a matching grant through Orphans Treasure Box.
Cole's Story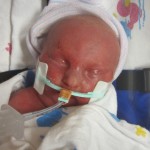 Cole McKee Shannon was born April 27, 2011. He arrived six weeks early, and weighed only 3 lbs. 12 oz. He could not breathe on his own, needed a tube for feedings, and he struggled with seizures. An MRI showed that Cole's brain was severely malformed, and he had some unusual outward characteristics. We also learned that Cole was blind. Nonetheless, Cole was a beautiful baby, fearfully and wonderfully made by the Lord. Cole's doctors were not certain how long we would have Cole, but we all knew his life would be short. We were devastated.
We spent 5½ weeks in the NICU of one hospital, and 5 more weeks in another. Doctors tried their very best to find the right medications to control Cole's seizures. Over time, Cole had more periods of calm, but the seizures persisted. Our biggest goal was to bring him home and to care for him in a setting free from monitors and excess noise, but that scenario seemed impossible as he continued to need a ventilator to breathe. Suddenly and very unexpectedly, at just over 8 weeks, Cole proved that he could breathe on his own. His little brain, still broken and seizing, was enabling Cole to breathe. It was a true miracle! We were amazed and unbelievably happy, and even the doctors were surprised. On July 8, after a long day of goodbyes, we loaded Cole and his gear into the car and took him home at last.
Caring for Cole was challenging, but he was so incredibly worth it.
Caring for Cole was challenging, but he was so incredibly worth it. He developed the sweetest, chubbiest cheeks, grew to 8 lbs., and showed more awareness and personality than anyone ever thought he would. In his own way, he would remind us how much he disliked having his diapers changed, which often made us laugh. Cole loved to hang out in his swing, snuggle with Mommy, and lay on Daddy's lap. Bath time and stroller rides were relaxing for Cole and gave us a sense of normalcy.
Cole returned to the hospital on September 7, 2011 with pneumonia and a collapsed lung, and he went to be with Jesus on September 16th. He was 4½ months old. Despite numerous tests, Cole was not diagnosed with any known syndrome. We are tremendously thankful for the gift of Cole's life. What a privilege it was to be his parents. His short life was filled with big purpose, and although Cole is no longer here on this earth, we continue to see God's purpose for his life being fulfilled. "Cole Man," our beautiful baby boy, blessed the lives of many. He is "loved beyond words, and missed beyond measure." Today, we find joy in the fact that Cole is now healthy and at peace. We can hardly wait for the day when we will see him again.
To learn more about baby Cole, please visit Jennifer's blog, Newsighted.