Clear out Your Shelves.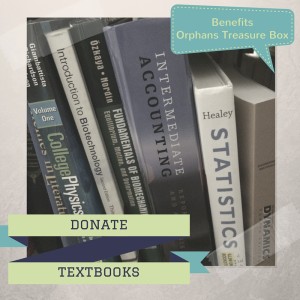 Have textbooks to get rid of this semester?  Orphans Treasure Box would love to take them off your hands!
Textbooks create a huge giving opportunity for us.  Many will be sold in our online store, and the net profits will be given to the organizations we support.
This is a great service opportunity for campus organizations. We can provide you with boxes, flyers, posters, social media graphics…everything you need to organize a textbook drive! We can even come speak to your group to get them excited about our mission and what they can do to help.
Interested? Contact julie@orphanstreasurebox.org for information on how to get started.