An Adoption Story.
In 2010, Brett and Jennifer Johnson went on a church mission trip to Hogar de Esperanza (Home of Hope) in Peru. They expected a one time experience, but God had other plans. Here's Brett's story…
"In 2010, after a long struggle with where we were and where we were going, we decided to go on a mission trip with our church. We waited til the very last second to join the team and still remained unsure about the decision. When the trip finally arrived and we launched for Peru, we heard lots of talk about the kids and adoption. We really had no interest in adoption of any sort as we had just downsized our home and were looking to uncomplicated our lives. We served at the orphanage for two weeks and left there fulfilled that we had done our part and were anxious to resume life as normal.
After our return home we assimilated back into the routi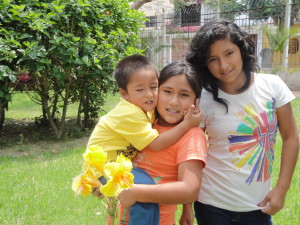 ne for a couple of months. We were trying to go on as normal, but we realized things weren't normal. Our hearts had become attached to three kids at the orphanage. The kids were a sibling group of two girls, ages 12 and 8, and a boy aged 2. While going through pictures as we shared our story, we began noticing we had taken an extraordinary amount of photos of these three kids. We prayed and felt led to begin the adoption process.
We were initially advised the adoption would take about nine months – it took two years!  There were times when we were impatient and felt like giving up. We persevered through God's sovereignty and finally the day to travel came abruptly.  We received and email on a Monday or Tuesday and they told us to be in Lima the following week.
W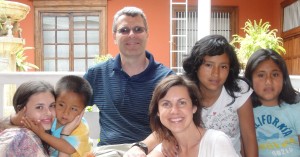 e flew to Lima, signed many papers, flew to Trujillo, Peru and went straight to the orphanage to get the kids. I was scared to death!  The fight or flight response was screaming FLIGHT!  I think Jen was numb. We got the kids that very day and took them into town and bought new clothes, ate lunch together and spent the day wandering the city. We spent three weeks in Trujillo with the kids doing paperwork.  We then took them to Lima for a week for more paperwork.  After a week in Lima, we flew home. We arrived on Bloomington to find it raining sideways. The kids had never seen rain and this was quite a sight for them.
We started a new life with our latest family additions and realized we had our hands full.  The trauma they had endured while living in Peru was more than they could process, and losing their home country, culture, language and food was taking its toll. We dealt with many raw emotions. We spent many days and nights not know what to do or how to handle the situations. The first year was very difficult, but we were doing our best to survive. The kids had many educational gaps because they'd only been in school since 2009 when they came to Hogar de Esperanza. The oldest (14 at that time) had only been to a basic form of kindergarten.
Each year has gotten better and we have learned how to help them process things and how to read the emotional triggers. Lots of therapy and family talks along with an extraordinary amount of leaning on God has made us a family. The kids are all enrolled at Judah Christian School and are thriving. Luz, now 18, is a junior and is on the cross country and soccer teams. Sofia, age 14, is a 6th grader and plays on the basketball team. Jose, age 8 is a normal boy loving the second grade.
There were days when we asked ourselves if we had done the right thing and if we would ever be comfortable again.  God answers those questions often with a commanding yes!  We will always be learning about each other and dealing with some major trauma issues, but I know these kids have a real opportunity to grow up secure and be healthy and happy.
About the Johnsons
Brett and Jennifer grew up in Charleston, IL, but have been in Champaign now for over 20 years. He's recently retired from the Champaign Fire Department, and she works for the City of Champaign. They have two biological children: Blake is 30, married with a young daughter, and is a Decatur firefighter. Olivia is 19 and enrolled in the nursing program at Parkland. Brett and Olivia have returned to Hogar de Esperanza the past three years.
About Hogar de Esperanza
Hogar de Esperanza (Home of Hope) is an orphanage which offers a loving home and a future to orphaned, abandoned and abused children in Peru. They are a non-denominational Christian ministry which first opened their doors to homeless children in October 2001, delivering high quality care to at-risk children. Their children come from a variety of backgrounds including abandonment, extreme poverty, family violence and abuse. The orphanage provides kids with a safe and loving family environment, an education and vocational formation as well as a faith-filled atmosphere where they can be instilled with the values of God. Find out more by visiting their website.